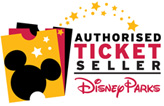 All Disneyland® Paris tickets that we offer give you full and unlimited access to both the Disneyland® Park and the Walt Disney Studios® Park

By pre-booking you will take advantage of reduced rates from the prices at the gates in the park so we strongly advise you to pre-book. For ticket only please try and pre-book at least a week before your departure to ensure you receive your tickets in time. We also have the ability to provide e-ticket confirmations for presentation at the park gates. Please call for more details or if you have any other queries for ticket only reservations.
Ticket Type

Mini

Magic

Super Magic

                       

Adult

Child

Adult

Child

Adult

Child

1 Day Hopper

£52

£46

£60

£55

£63

£58
Ticket Flexibility On One Day Tickets
Please note depending on the ticket type you have purchased certain date restrictions apply. If a voucher for a Mini ticket is presented at the gate on a High or Peak date you will have the pay the difference between the cost of the ticket and the full gate price. This same applies to a voucher for a Magic ticket presented at the park on a peak date.
Mini tickets are valid on the following low season dates:. 16-20 Feb, 23-27 Feb, 2-6 Mar, 9-13 Mar, 16-20 Mar, 23-27 Mar, 30,31 Mar.
Magic Tickets are valid on all low season dates above (mini) plus the following during Winter 2014/15 season Feb; 16-20 Feb; 23-27 Feb; 2-6 Mar; 9-13 Mar; 16-20 Mar; 23-27 Mar; 30-31 Mar. And the following dates during the Summer 15 Season: 1-3 Apr; 6-10 Apr; 13-17 Apr; 4-7 May; 11-13 May; 18-22 May; 26-29 May; 1-5 Jun; 8-12 Jun; 15-19 Jun; 22-26 Jun; 29-30 Jun; 1-3 Jul; 24-28 Aug; 31 Aug; 1-4 Sep; 7-11 Sep; 14-18 Sep; 21-25 Sep; 28-30 Sep; 1-2 Oct; 5-9 Oct; 13-16 Oct.
Super Magic Tickets are valid on all dates from 13 November 2014 – 31 March 2015 during the Winter 14/15 Season and 1 April 2015 – 2 November 2015 during the Summer 15 Season.
TICKET TYPE

ADULT

Winter 2014/15

CHILD (3-11years)

Winter 2014/15

Regular 2 Day 2 Park Hopper

£110

£99

4 Days for Price of 3 Party Ticket

£134

£123

5 Days for Price of 4 Party Ticket

£164

£148

Planet Hollywood Disneyland Paris - Enjoy a 2 Course Meal

£24

£14
If you have booked a Winter season ticket - November 13th 2014 - 31st March 2015 you must use your ticket during this period. If you have not used your ticket by the end of thid period it will become invalid. The days do not need to be taken consecutively but within the season you have booked.
For more infrormation on park tickets please call our experienced sales team now on 0330 880 5001.
©Disney